Kathleen DiNatale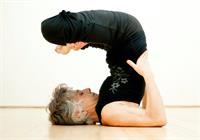 Guiding students with clear and articulate instructions, anatomical insights and skillful sequencing, Kathleen shares the benefits of her long-time yoga practice with humor and grace. Her classes blend poetry and wisdom teachings with her understanding of the power of yoga asana to transform. She has taught yoga in Galveston since 1998, moving to the island from Santa Fe, NM to teach at Island Yoga. Kathleen opened The Yoga Haven in 2005. She is experienced in several styles of yoga with practice & study in Iyengar, Ashtanga, Anusara, PreNatal Yoga and Yin Yoga. She holds teaching certifications from The Yoga Institute, Prajna Yoga and Insight Yoga. Kathleen continues to study with Tias & Surya Little of Prajna Yoga and Sarah Powers of Insight Yoga. She practices and teaches mindfulness based meditation in the Vipassana tradition. Since 2011, Kathleen has also operated the Oasis Juice Bar & Market with partners Dennis McFadden and Steve Hermecke, bringing healthy & conscious food options to downtown Galveston.
Kathleen DiNatale instructs the following:
An Iyengar-style class utilizing props to target openings, create stability and enhance alignment. Postures are held for an extended time to increase benefits. This practice is therapeutic, rejuvenating and relaxing. Suitable for all levels and prenatal friendly.




A practice designed for beginners, older students or those wanting a slower pace. Class includes both dynamic and static postures sequenced to develop strength, balance and flexibility. Props are used to assist students. Meditation and breathing techniques are introduced to support the release of physical and mental tension. *This class is suitable for prenatal practice.




Find a skillful balance between dynamic (yang) and reflective (yin). Explore the interplay of these complementary energies with both vinyasa and long-held postures. Cultivating awareness of breath as a guide to both mindful action and meditative stillness, natural vitality is revealed. Mixed-level to intermediate practice.




A compliment to dynamic yoga practices, an antidote to a fast-paced lifestyle, a meditative and reflective practice, offering deep stretch & release. Primarily floor work, Yin Yoga targets the connective tissues. Postures are held, muscles are invited to yield and space is opened in the joints, allowing energy to flow. Focused and reflective, this practice encourages a healthy, supple body and a cool, peaceful mind. * prenatal friendly




Thanksgiving Day Yoga on the Beach at 29th St. Beach

Start your day with an attitude of gratitude, energize your holiday with a fun and inspiring all-levels practice on the beach. Bring a yoga mat or towel! Regular class rates apply. Pre-register online if you can or bring CC or cash. *class is dependent on the weather. Check online or FB by 6:30am in case of weather based cancellation.




Opening with a soft flow of yoga asanas to prepare the body and mind for the deep, guided meditation of Yoga Nidra (Yogic Sleep), this practice serves to calm the restless mind and deepen conscious awareness. The combination of gentle movement, conscious relaxation and guided meditation results in feelings of lightness, ease and restfulness, like floating on the waves of an eternal ocean. Suitable for all levels, including beginners and prenatal friendly.