Michelle Johnston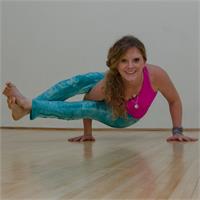 Michelle grew up in landlocked Ohio, but has always been inspired by the ocean. As a marine biologist working with NOAA, scientific SCUBA diver, and all-around outdoor girl, it was no surprise that she was charmed by vinyasa yoga. Initially drawn to the practice for the physical challenge, she quickly discovered that yoga offered much more--a balance of mind, body and soul. Vinyasa flow became one of her passions, complimenting her enthusiasm for water activities, and she has been teaching since 2001. As a graduate student at USC, she discovered Anusara yoga and aligned to that philosophy, as weaving elemental alignment principles into an energetic flow allows students to gain the most out of their yoga practice to both open and create positive space. Michelle leads an enthusiastically engaging class that plays to students of multiple levels. In her free time, Michelle travels, dives, paddles, hikes and runs on the beach with her dog Zoe.
Michelle Johnston instructs the following:
A dynamic flow class using surya namaskar (sun salutations) as a thread woven throughout the practice. Standing poses, forward bends, back bends, twists, balance poses and inversions are sequenced with the vinyasa. This dynamically-paced series builds internal heat, strength, stamina, focus and flexibility.* Mixed-level class for those with some yoga experience.