CJ Rubenak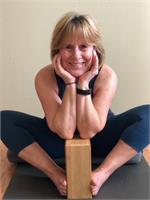 CJ was introduced to Yoga through Public Television in the early 1990's and developed a home practice shortly after. She initially attended yoga classes for the physical benefits but soon realized the powerful mind-body connection and the positive impact yoga was having on her health and well-being.
CJ completed her 200-hour teacher training at Sundance and started as an instructor in 2011. She went on to complete her 500-hour teacher training in 2015. CJ sees herself as a student first and foremost.
Teaching yoga has been a natural progression for CJ that developed from her personal practice. As an instructor, CJ focuses on creating a supportive environment for others to experience self-awareness and personal growth.
CJ holds a Master's degree in Social Work and spent many years working in this capacity. She views teaching yoga as yet another way to be of service to others.
CJ teaches Gentle Yoga, Yin, Yoga Nidra and Mixed Level classes at Sundance Yoga in Friendswood & Pearland. She also teaches at Moonlight Yoga and is a frequent visitor to Kathleen's classes at The Yoga Haven. CJ remains inspired by her teachers Valerie Immore, Christy Burnette, Ali Valdez, Francis Rhodes and her very first teacher, Lilias Folan on PBS.
CJ Rubenak is currently not instructing any classes.