Geshe Denma Gyaltsen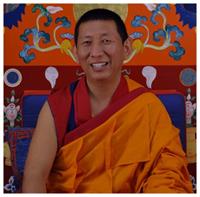 Geshe Denma Gyaltsen is the resident Lama of the Ligmincha Texas Foundation. Trained in the Bon tradition, born in Nepal of Tibetan parents.
Geshe Denma Gyaltsen instructs the following:
Five Elements Meditation & Practices

with Geshe Denma Gyaltsen

Sunday January 20th

1pm - 4pm

Cost $40

Geshe Denma Gyaltsen, resident Lama of Ligmincha Foundation, returns to The Yoga Haven to offer the profound meditations and practices around the Five Elements.

Space, air, fire, water and earth make up our natural world. The Tibetan Bon practices support harmonizing the elements within to find balance, healing, peace and joy.

Geshe Denma will teach meditations, mudras (hand gestures), pranayama ( breathing practices) and chants.