Wendy Russo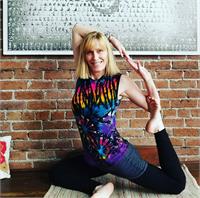 In 2009, Wendy was introduced to Yoga as a way of alleviating stress and shoulder pain that physical therapy could not address. For Wendy, the transformative effects of yoga have been both physical and profound.
After retiring from work as a Laboratory Manager in a busy oncology clinic, Wendy decided to pursue her passion for yoga by completing a 200Hr Yoga Teacher Training course. She became Nationally Certified through the Yoga Institute in January 2018.
Wendy has been a dedicated member of The Yoga Haven community for several years and we welcome her to our teaching staff as she enters this new phase of her life.
"The poses create tension and learning to soften and find stillness even in this self-imposed discomfort. Yoga has taught me how to maintain a sense of calm in everyday life." – Wendy
Wendy Russo instructs the following:
This mixed-level class trains students in a series of yoga postures that serve to increase bone density in the spine, legs and hips. The series was developed by Dr. Loren M. Fishman at Columbia University as a pilot study and the results pointed to improved posture, balance, decrease in falls and fractures. The series when practiced correctly can be done in 12-minutes and can become the basis of a daily practice for bone health. Students will receive training in the series and an outline of the postures and their benefits for reference. Suitable for beginners. Drop-ins welcome.




A dynamic flow class using surya namaskar (sun salutations) as a thread woven throughout the practice. Standing poses, forward bends, back bends, twists, balance poses and inversions are sequenced with the vinyasa. This dynamically-paced series builds internal heat, strength, stamina, focus and flexibility.* Mixed-level class for those with some yoga experience.