Bianca Broman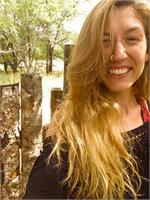 Bianca's quest to learn and grow began with her first yoga class in 2011, where she developed a passion for vinyasa yoga. As her understanding of yoga grew and evolved, Bianca came to view yoga as a healing practice designed to reconnect the mind, body, and spirit. The truth of her practice serves as a guiding force in class planning.
Bianca leads Form & Flow Yoga where she places emphasis on alignment in each asana while incorporating mindful breath work. Her clear and concise cues cover basic Vinyasa techniques that challenge and strengthen the body & mind. Bianca's classes begin and end with an invitation to set daily intentions followed by a mindful meditation to ignite and empower the spirit. In addition to vinyasa, Bianca enjoys hatha, yin and restorative yoga practices.
Bianca spent 6 months living and teaching in Argentina before moving to Galveston and receiving her 200 RYT Teacher Certification from YogaOne in Houston. Bianca is currently enrolled in the Texas A&M University at Galveston Graduate Program and has a Bachelor of Science in Geology from Stephen F. Austin State University.
In her free time, she enjoys travel, photography, art, dance, the beach and time with loved ones.
Bianca Broman instructs the following:
Foundations of hatha yoga for beginning students, those returning to practice or wanting a mid-week refresher.

Learn basic skills that will deepen your understanding and enjoyment of the practice of yoga.

Class sequences build on weekly focus: 1st week of month:

Standing poses; 2nd week: forward bends; 3rd week: back bending; 4th week: hip opening and twists. Meditation, conscious relaxation and breathing practices are introduced.

Props, variations and modifications for individual needs are offered.




Enjoy a slow and sweet vinyasa flow with special attention to the mechanics of alignment. Ideal for students new to vinyasa or those wanting a relaxed pace. As strong as you like it, or gentle, with Sun Salutation as a thread linking the postures and breath guiding the pace through standing poses, forward bends, backbends, twists. *Mixed-level practice.




A dynamic flow class using surya namaskar (sun salutations) as a thread woven throughout the practice. Standing poses, forward bends, back bends, twists, balance poses and inversions are sequenced with the vinyasa. This dynamically-paced series builds internal heat, strength, stamina, focus and flexibility.* Mixed-level class for those with some yoga experience.