Olivia Bailey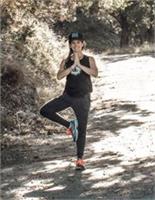 In 2006 Olivia stepped foot on a yoga mat for the first time and soon found that yoga provided her with a physical balance that complemented her athletic lifestyle. The more frequently Olivia attended classes, the more she yearned to deepen her practice by becoming a yoga teacher.
Ten years later, in 2016, Olivia decided to pursue her dream of sharing yoga with others and enrolled in teacher training at Joy Yoga University, and is grateful to have the opportunity to share yoga with others.
Olivia is a certified nutritionist and a busy mother of two who is dedicated to clean living and helping others achieve a balanced lifestyle.
As a true outdoors person and athlete, Olivia says, "You only live once, so do what you love!"
Olivia Bailey instructs the following:
A dynamic flow class using surya namaskar (sun salutations) as a thread woven throughout the practice. Standing poses, forward bends, back bends, twists, balance poses and inversions are sequenced with the vinyasa. This dynamically-paced series builds internal heat, strength, stamina, focus and flexibility.* Mixed-level class for those with some yoga experience.