Svetlana Zhikhareva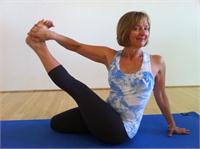 Born in Russia, Svetlana experienced the fall of the Soviet Union in 1990. The study of yoga was banned by the Soviets, but a wave of interest in yoga blossomed after the fall. Svetlana's dedicated practice led to her becoming an instructor at the Iyengar Yoga Center of St. Petersburg, training with some of Europe's finest Iyengar teachers, including Gabriella Gubillaro (Italy), Faek Biria (France), H.S. Arun (India). She developed customized individual prenatal programs at the St. Petersburg Center. Svetlana traveled to India to study with B.K.S. Iyengar at Pune in 2007. She has taught at The Yoga Haven since 2010 and became a U.S. citizen in 2011. Svetlana's teaching is precise and powerful, rooted in the teachings of BKS Iyengar. She is a licensed Massage Therapist, and an accomplished visual artist.
Svetlana Zhikhareva instructs the following:
Neck & Shoulders postures to relieve tension, to strengthen & stabilize. Using props like blocks, bolsters, blankets, straps, chairs, sandbags and more, this class focuses each month on a particular part of the body or issue.This therapeutic approach is based on precision in alignment, sequence and timing to enhance the benefits, safety and understanding of yoga asanas. Holding the poses builds strength, stamina and focus. This class is appropriate for students new to yoga, as well as students with an ongoing practice. Suitable for prenatal students with instructor''s permission.




An Iyengar-style class utilizing props to target openings, create stability and enhance alignment. Postures are held for an extended time to increase benefits. This practice is therapeutic, rejuvenating and relaxing. Suitable for all levels and prenatal friendly.