Lisa Bradrick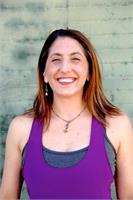 Lisa's path of yoga began in college with Hatha yoga classes at her university gym. After a few classes she realized yoga was precisely what she had been searching for all along. Her enthusiasm for her practice has deepened over the years as a path toward better health and personal enrichment. Her practice has given her all of that and much more. She delights in sharing that with her students.
Lisa was certified through OM Yoga at the 200 Hr. level and has a background in social work and psychology, which has helped her growth as an instructor.
Her personal practice and teaching are based in Astanga and Vinyasa Flow styles with an emphasis on maintaining creativity and openness. In her spare time, Lisa takes every opportunity to spend time relaxing with her husband and collection of rescue animals. Relaxing often takes the form of walking the dogs on the beach, volunteering for a pet rescue organization or cooking up a new recipe for a Sunday dinner with friends.
Lisa Bradrick instructs the following:
A dynamic flow class using surya namaskar (sun salutations) as a thread woven throughout the practice. Standing poses, forward bends, back bends, twists, balance poses and inversions are sequenced with the vinyasa. This dynamically-paced series builds internal heat, strength, stamina, focus and flexibility.* Mixed-level class for those with some yoga experience.




Enjoy a slow and sweet vinyasa flow with special attention to the mechanics of alignment. Ideal for students new to vinyasa or those wanting a relaxed pace. As strong as you like it, or gentle, with Sun Salutation as a thread linking the postures and breath guiding the pace through standing poses, forward bends, backbends, twists. *Mixed-level practice.